Functional Diagnostics Department
---
Tel. +380 44 483-95-35, +380 68 302-67-22 (neurophysiology), +380 68 302-67-23 (ultrasound diagnostics), 095 487-21-31 (EEG, CEEG)
e-mail: enmg@ukr.net, llche@ukr.net


About Functional Diagnostics Department [in Ukrainian]
How to find: Institute of Neurosurgery, building 6, floor 2 (see Map and Institute scheme).
---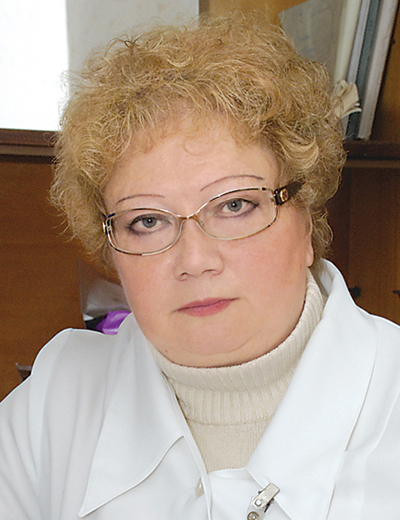 Lidia L. Chebotariova
MD, PhD, DSc, Professor, Head of the Department of Neurophysiology, neurologist of the highest category, Honored Worker of Science and Technology of Ukraine

orcid.org/0000-0001-7881-8564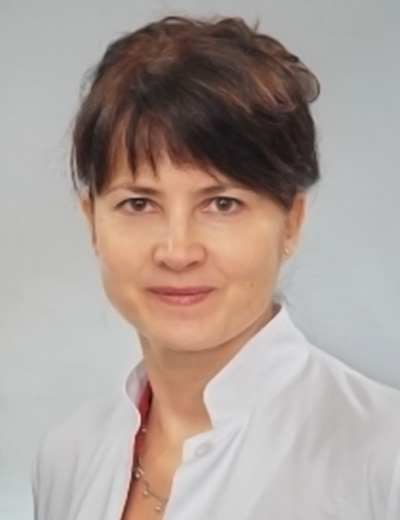 Albina I. Tretiakova
MD, PhD, DSc, Head of the Department of Functional Diagnostics, functional diagnostic specialist of the highest category, neurologist, ultrasound specialist, senior researcher

orcid.org/0000-0002-3638-4339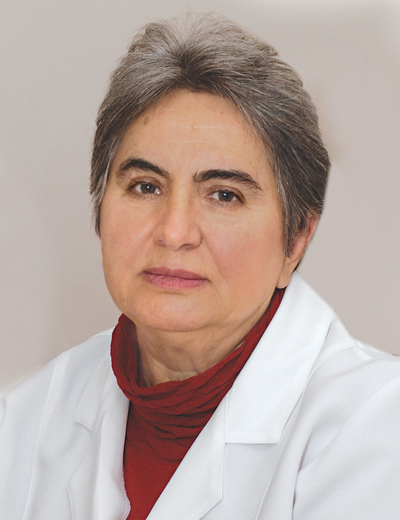 Irina Ph. Zemskova
MD, PhD, neurologist of the highest category, researcher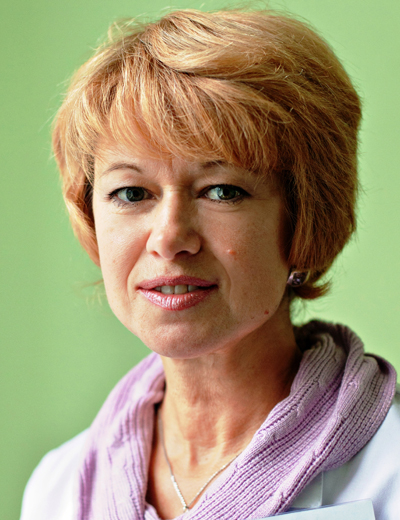 Marina V. Globa
MD, PhD, DSc, ultrasound specialist of the highest category, neurologist, anesthesiologist, senior researcher

orcid.org/0000-0001-5112-5143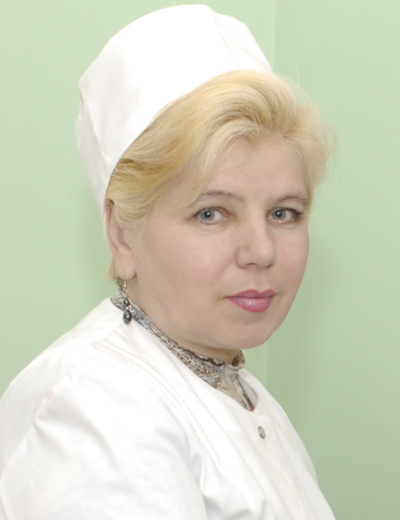 Anna V. Mikhal
MD, PhD, functional diagnostic specialist of the highest category, researcher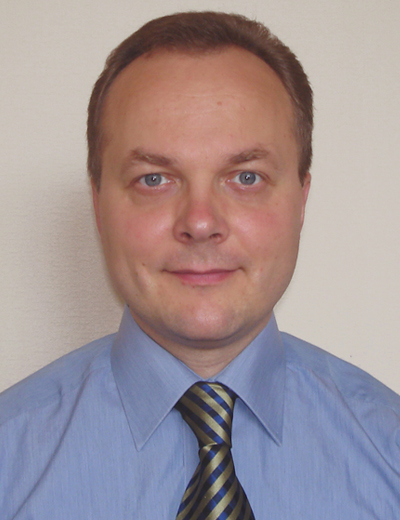 Leonid L. Marushchenko
MD, PhD, ultrasound specialist of the highest category, neurosurgeon, researcher

orcid.org/0000-0001-9020-5402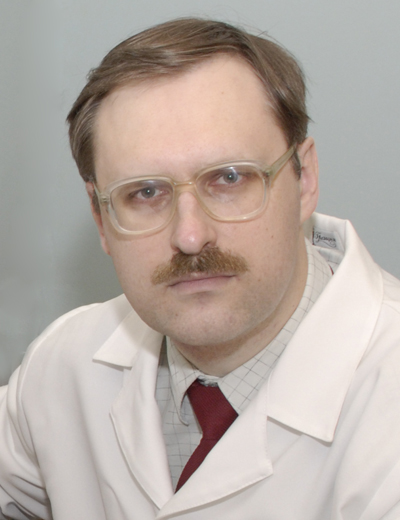 Alexey M. Kanaykin
MD, functional diagnostic specialist of the highest category, researcher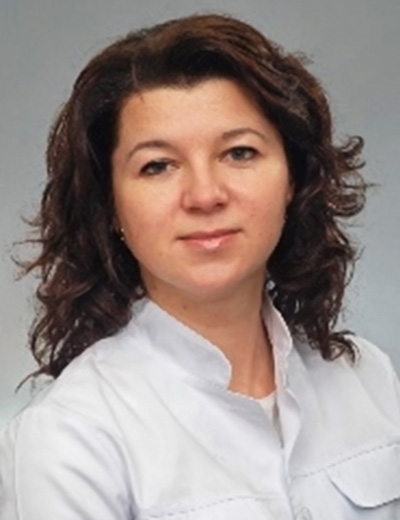 Ludmila N. Suliy
MD, PhD, functional diagnostic specialist of the highest category, ultrasound specialist, neurologist, researcher

orcid.org/0000-0003-2263-7240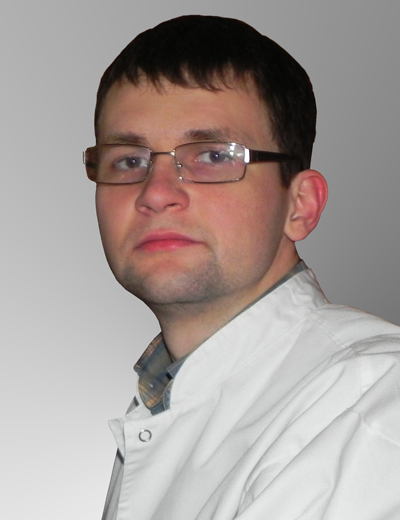 Alexandr S. Solonovych
MD, PhD, neurologist, functional diagnostic specialist , researcher

orcid.org/0000-0002-2824-7422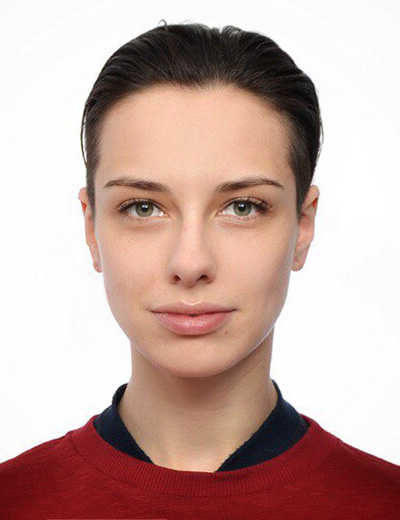 Oleksandra V. Dunayevska
MD, ultrasound specialist, researcher at the Department of Restorative and Functional Neurosurgery

orcid.org/0000-0002-9666-8472
History of the department of functional diagnostics
The laboratory of electrophysiology was set up in 1950. At different times it was managed by the following specialists: Prof. N.V.Semyonov (1950-1954), Senior Research Associate, Candidate of Medical Science O.P. Kharchenko (1954-1992), Doctor Habil. (Med.Sc.) D.S. Lyashchenko (1992-1995), Leading Research Associate, Doctor Habil. (Med.Sc.), Prof. L.L.Chebotariova – since 1995.
The laboratory of electrophysiology started its work in 1949 at the Institute of neurology and psychiatry (on the premises in Vorovsky St.). It consisted of 2 people:
head of laboratory M.V.Semyonov and M.L.Gorbach. Later, T.G.Yarkina joined them. They worked on the rented 2-channel electroencephalograph. After the Institute had moved to the new building, a 4-channel catode electroencephalograph was purchased and used for accurate nidus localization in patients with brain tumours.
Directors of the Institute of Neurosurgery, Acad. O.I.Arutyunov, Acad. A.P. Romodanov, Acad. Yu.P. Zozulya, always gave their full attention and greatly contributed to the development and improvement of the diagnostic service of the institute, provision and maintenance of modern equipment for the laboratory. They promoted research and academic development of the department and its personnel.
DFD staff has increased to 16 members. It includes 3 Doctors habilitated (Med. Sc.), a professor, 7 Doctors of Medical Science.
Nowadays, practically all modern methods of electrophysiological and ultrasound diagnostics of neurological disorders are used in the FD department. The number of diagnostic procedures carried out is about 9-10.000 annually.
DFD staff members have published more than 200 research papers over the past 10 years. The department is the main facility for training specialists in functional diagnostics of neurological disorders in Ukraine; more than 200 healthcare professionals have been trained at postgraduate training courses over 10 years.
Information for patients
The Functional Diagnosis Department provides examination and tests to the in-patients of Romodanov Neurosurgery Institute as well as to the out-patients referred for examination by the doctors of the Institute of Neurosurgery health-centre.
The Functional Diagnosis Department provides outpatient diagnostics to the patients from other health institutions (by previous appointment).
Basic neurophysiological procedures:
1. Digital electroencephalography (EEG) / computer electroencephalography (CEEG
Digital EEG (CEEG) is a method of registration of the cerebral bioelectric activity with a view to finding pathological rhythms, epileptiform activity, focal disorders and seizure activity of the brain.
The technique is safe and does not require special preparation.The patient's hair should be washed without the use of hair care products on the day of examination. Antiepileptic drug withdrawal on the day of examination should be recommended by the patient's attending physician only.
Indications for the examination:Показания к обследованию: loss or disorder of consciousness, convulsive seizures, epilepsy, focal symptoms, head injury, psycho-emotional disorders, hyperactive child syndrome, disphasia in children.
Offices: 241, 242, 243, 244. Pre-appointment calls: +380 95 487-21-31.
2. Brain evoked potentials (EP) – cognitive, visual, auditory, brainstem, somato-sensory
Cognitive evoked potential technique (CEP P300) has been recommended as a method of examination by the International and American Associations of clinical neurophysiologists. It gives the opportunity to assess different stages of information processing in the brain with the help of the registration of local electric potentials in cerebral cortex during the test. It is based on random sequence ("оdd-ball paradigm") delivery of the series of two auditory stimuli, among wich there are significant and insignificant ones. CEP P300 provides an objective assessment of certain cognitive functions, diagnoses early signs of cognitive disorders, primarily, ADD (attention deficit disorder), memory span, different types of dementia. The specialists of the department have developed and implemented the effective complex of neuropsychological and neurophysiological tests which enables them to individualize the treatment of patients and make the assessment of its effectiveness objective.
Indications for the examination: memory, attention and cognitive disorders under mental work load, stress, asthenia; in patients with cerebrovascular pathology, cranio-cerebral trauma, mental disorders.
Somatosensory evoked potentials make it possible for specialists to evaluate the condition of every link of conducting sensory pathways, from peripheral nerves and the spinal cord to the cerebral cortex.
Auditory evoked potentials help to determine the level of the auditory impairment: auditory nerve, brainstem, cerebral cortex.
Offices: 241, 242, 245.
3. Neuropsychological testing
Neuropsychological testing is conducted with the help of the standardized assessment, scales (tests), which show evidence and severity of cognitive disorders; emotional and depressive disorders, signs of asthenia, professional disadaptation.
Neuropsychological testing gives the possibility to objectively confirm and determine the degree of the disorder severity based on blocks: visuoconstruction, names of objects, attention, speech, mathematical skills, semantic activity, abstract thinking, short-term memory, temporal and spatial orientation.
Indications for the examination: memory, attention, cognitive disorders; evidence of depression, anxiety, asthenia, mental disorders, professional and social disdaptation.
Offices: 241, 242.
4. Computer electroneuromyography (ENMG)
Electroneuromyography (ENMG) and needle EMG methods are used to diagnose the functional state of the peripheral nervous system and the segmental apparatus of the spinal cord.
1. Stimulation ENMG is the evaluation of motor and sensory nerve fibers conduction velocity indices, as well as skeletal muscle strength.
Indications for the examination: nerve neuropathies, including posttraumatic ones, tunnel syndromes, polymononeuropathies, polyneuropathies, radiculopathies, polyradiculopathies, plexitis.
2. Needle EMG is used in motoneuron diseases (amyotrophic lateral sclerosis (ALS), spinal amyotrophy), plexus traumatic injuries, tunnel syndromes, muscle diseases (myopathy, polymyositis); diseases related to membrane excitability dysfunction (myotonia, myotonic syndromes), neuro-muscular transmission (diagnosis of myasthenia and myasthenic syndromes).
Sterile disposable needles are used for EMG examination.
Offices:Кабинеты: 241, 245.
5. Transcranial magnetic stimulation (TMS) – diagnostic and therapeutic
Transcranial Magnetic Stimulation (TMS) is a method of neurostimulation and neuromodulation whose biophysical basis is the electromagnetic induction of the electric field in a given region of the brain. Under the influence of magnetic field, induction of weak electric currents which stimulate the nerve cells occurs in brain tissue.
The advantage of TMS over the common electrophysiological methods is the posibility of objective (quantitative) evaluation of the corticospinal tract status (the so-called "pyramidal tracts").
The technique is painless and practically does not cause any side effects.
It is used in clinical practice both as a method of diagnosis and as a method of treatment.
TMS is used in many diseases of the nervous system, such as amyotrophic lateral sclerosis, myelopathy, multiple sclerosis, radiculopathies, spinal cord traumas; it is used for assessment of central nervous system plasticity and its recovery after neurosurgery for brain tumours, etc.
Therapeutic TMS is effective in the treatment of depression, post stroke rehabilitation (it changes the excitability of certan cortical regions and their functional interrelation); in motor manifestations (hemiparesis), aphasia, neglect syndrome (spatial neglect), Parkinson's disease, dystonias, neuropathic pain, type 1 complex regional pain syndrome, fibromyalgia, migraine, tinnitus ("hearing"noise in the ear), spinal spasticity (multiple sclerosis, spinal trauma, myelopathy), pharmacoresistant epilepsy. Repetitive TMS isn't invasive, doesn't require anesthesia and can be performed in a doctor's office.
Preparation for the procedure. Tranquilizer and vasoactive agent intake is not recommended as they can influence the test validity.
It is necessary to remove mobile phones and other digital gadgets from the apparatus operating area, take off electronic watches and metal objects.
The duration of the procedure – not longer than 30-40 minutes.
Side effects. Sometimes the patient may feel discomfort or a minor headache in coil contact areas. During the procedure, the electromagnetic coil produces a loud noise. Therefore, it is recommended to use protection means to prevent tympanic membrane injury.
Contraindications:
• Brain tumours/neurooncological diseases.
• You're pregnant or thinking of becoming pregnant.
• You have any metal or implanted medical devices in your body. In some cases, people with metal implants or devices can have rTMS. However, due to the strong magnetic field produced during rTMS, the procedure is not recommended for some people who have the following devices:
• Aneurysm clips or coils
• Stents
• Implanted stimulators
• Implanted vagus nerve or deep brain stimulators
• Implanted electrical devices, such as pacemakers or medication pumps
• Electrodes for monitoring brain activity
• Cochlear implants for hearing
• Any magnetic implants
• Bullet fragments
• Any other metal device or object implanted in your body.
Office: 245.
The examination is carried out with the help of of modern equipment of the following companies: DX-systems, Brain_Test 24k, "Neurosoft", "NeuroMS/D".
Pre-registration of patients for neurophysiological study: +380 68 302-67-22.
Basic ultrasound techniques:
1. Vascular ultrasonography (duplex scanning of head and neck great vessels, transcranial duplex scanning, transcranial doppler ultrasound, intraoperative dopplerography)
Duplex (triplex) scanning – a method of ultrasound diagnosis of neck great vessels permeability, the condition of vessel walls, finding intraluminal masses (thrombi, atherosclerotic plaques), changes in vessel geometry (tortuosity, loops), presence of vasospasm (stenoses, dissections, aneurysms).The examination is painless and safe for the patients. It is performed in a supine position above the cervical vessels projection with the help of an AC/alternating-current transducer at oscillation frequency of 7 MHz.
Тtranscranial duplex scanning (TCDS) is performed with the help of an AC- transducer at frequency of 2 MHz using 2 "ultrasound windows": the transtemporal approach – for the proximal regions of medial, anterior and posterior cerebral arteries, the Rosenthal vein, and the trans-occipital approach – for the intracranial regions of spinal arteries and the basillar artery.
Vascular studies are used to assess the blood flow in arteries and veins with the help of quantitative and qualitative analysis of spectrograms, as well as direct imaging of vessels with the use of CFM (colour flow mapping). The qualitative analysis is based on the dopplergram pattern. To make quantitative analysis, blood flow velocity data and peripheral vascular resistance indices are used.
Functional tests: tests of cerebral vessel responsiveness and rotation tests of spinal arteries in triplex scanning mode are used.
Indications for the examination: headaches, vertigo, strokes, transient ischemic attacks, atherosclerotic vascular disease, stenoses, thromboses, memory disorders, verterbrobasilar insufficiency, neck trauma, congenital vascular malformations, hindered venous return, condition after carotid artery stenting and preoperative assessment before cardiac surgery.
Offices 256, 256а, 258.
2. Neurosonography in Neonates and infants (NSN)
NSN is an ultrasound technique which helps to reveal and evaluate congenital cerebral malformations in neonates, the condition of the ventricular system and structures of the brain, presence of hydrocephalus, intraventricular hemorrhage, cysts, hematomas (both spontaneous and posttraumatic). Combined with dopplerography in CFM (colour flow mapping) mode, NSN gives the possibility of the assessment of peripheral resistance of cerebral vessels, which may be a sign of intracranial hypertension.
Offices: 257, 258.
3. Ultrasonography of abdominal cavity organs, thyroid gland, pelvic organs, lower extremity blood vessels.
Offices: 257, 258.
The examinations are carried out with the use of modern equipment: Toshiba Aplio 400, Toshiba Aplio MX, Siemens «Sonoline G50», Siemens Cypress Acuson, Logiq Book, Angiodin PC.
Pre-registration of patients for ultrasound study: +380 68 302-67-23.
Information for Doctors
Department of Functional Diagnostics offers postgraduate training courses for specialists in functional diagnostics, neurologists, neurosurgeons, family medicine practitioners, GPs (physicians), internship doctors, resident physicians.
The training is provided by the specialists of the department with extensive experience in the field of diagnostics of the central and peripheral nervous system disorders.
The training course includes study of the theoretical framework of EMG, EP, TMS and acquisition of practical skills (hands-on skill practice, examinations of patients under the supervision of an experienced professional, clinical case studies).
The duration of the training course is 4 weeks (2 weeks).
Trainees receive a certificate after they complete the programme of postgraduate on-the-job training course in addition to the state-recognized degree.
For further information about postgraduate training courses, see Training Courses.
ATTENTION! The postgraduate training courses have been temporarily suspended for the quarantine period
With the participation of the staff of the department, the Public Organization "Society of Clinical Neurophysiologists" was created, where you can get acquainted with the latest events, methodological materials, webinars and planned courses http://www.knf.org.ua/
Professional closed group of physicians "Clinical Neurophysiology" https://www.facebook.com/groups/uacln
17 December 2020