Neuroradiology Department
Oleg P. Robak +380 44 483-06-68
---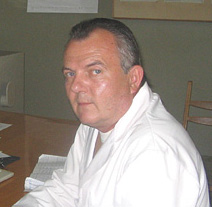 Department head – Robak Oleh Petrovych (since 1991).
The department was created in 1950. Its former heads include: M.D., Prof. Y.І.Heynisman (1950 – 1959), candidate of medical science Т.D.Podolsky (1959 – 1968), senior staff scientist T.М.Sorochynsky (1968 – 1985), candidate of medical science H.S.Danylenko (1985 – 1991).
Annually the department performs about 8,000 CT scans, 1,200 radiographic contrast studies and 1,300 MR images.
The department provides a great deal of counseling to Ukraine's healthcare institutions. Key area of activity: diagnostic studies of neuro cancers, CNS lesions, cerebrovascular pathology, and impaired CNS development in children.
The Department is located in the 6st building of Romodanov Neurosurgery Institute (see Institute scheme).