Spinal Department
---
Tel. +380 44 592-19-09, +380 50 543-76-80, +380 98 095-54-50
E-mail eu.slinko@gmail.com, ej.slienco@yahoo.com
Site: http://spine.kiev.ua
How to find: Institute of Neurosurgery, Building 3, 3rd floor (see Map and Institute scheme).
---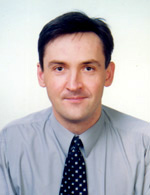 Eugene I. Slynko
MD, PhD, DSc, Neurosurgeon
Head of the department
The department was established in 1957 under the name "Department of spinal pathology and pain surgery". From the time of its creation until 1997 it was directed by Prof. V.S.Mykhaylovsky.
Diseases that are treated in clinic
Herniated discs of cervical, thoracic, lumbar spine
Spondylolisthesis, scoliosis, abnormalities of the spine and spinal cord
Vertebral hemangiomas
Spinal and spinal cord tumors (intramedullary, extra-medullary)
Syringomyelia
The consequences of spinal cord injury
Pain syndromes of different Genesis
Vascular pathology of the spine and spinal cord
Endoscopic removal of herniated discs
Technique of microdiscectomy on lumbar, cervical, thoracic spine
Surgical technology prosthetics of intervertebral disks by mobile prostheses
Complex of anterior and anterolateral approaches to all parts of the spine
Microsurgical technologies in intramedullary, extramedullary tumors
Methods of treatment of syringomyelia and anomalies of craniovertebral transition (Chiari, etc.)
Surgical techniques for the removal of craniovertebral tumors
Endoscopic removal of tumors of the spinal cord and spine
New methods of spine stabilization in trauma, osteoporosis
Vertebroplasty of vertebrae
Kyphoplasty
Surgical treatment of spinal pain syndromes
Diagnosis, endovascular and microsurgical methods of treatment of arteriovenous malformations of the spinal cord, spinal vascular tumors
Updated 28 June 2018