Scientific Library
Svitlana B. Krychun +380 44 483-82-63
---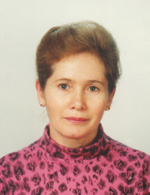 Krychun S.B.

The scientific library was created in 1928.
Prior to 1962 it was headed by R.Y.Karlinska, between 1962 and 1966 – К.E.Rudiak, between 1966 and1995 – І.А.Zhuk. Krychun Svitlana Borisivna has headed the library since 1995.
The current library book stock numbers more than 71,000 books and journals, mostly in Ukrainian, Russian and English.
Scientific products developed by neurosurgery institute workers are continuously recorded and registered. Currently, the library has 69 monographs and upwards of 8,000 scientific works by institute workers.
The Library is located in the 1st (administrative and laboratory) building of Romodanov Neurosurgery Institute (see Institute scheme).