Intracerebral Tumors Department
---
Tel. 044 483-92-19
E-mail: dr.rozumenko@gmail.com, info@neurooncology.com.ua
Site: http://neurooncology.com.ua
How to find: Institute of Neurosurgery, Building 5, 5th floor (see Map and Institute scheme).
---
Volodymyr D. Rozumenko
MD, PhD, ScD, Neurosurgeon
Scientific Head of the Department
Valentin M. Kluchka
MD, PhD, Neurosurgeon
Head of the department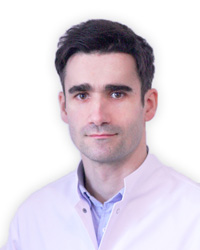 Artem V. Rozumenko
MD, PhD, Neurosurgeon
Diseases that are treated in our clinic
The Department of Intracerebral Tumors developed and implemented in practice combined surgical methods of treatments for patients with the most complex benign and malignant brain tumors:
– Glioblastoma
– Astrocytoma
– Oligoastrocytoma
– Oligodendroglioma
– Ependimoma
– Fibrosarcoma
– Hemangioma
– Limfoma
– Meningioma
– Metastasis of cancer
– Cavernoma
– Arahnoid cysts
Updated 02 March 2020.