Patent and License Department
Oleksandr O. Nakhaba +380 44 483-94-19
---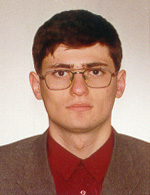 Nakhaba O.O.

Head – Nakhaba Oleksandr Oleksandrovych.
The patent and license invention department was set up as an independent subunit of the Institute in 1980. Prior to its establishment, the area of inventions and innovations was directed by Prof. B.А.Pelts (until 1975), chief patent expert, honored inventor of Ukraine А.H.Savenko, who headed the department between 1980 and 1989, and patent expert engineer Riazanova Liudmyla Ivanivna (1989-2008).
During the life of the department 208 certificate of authorship were awarded, patented in Russia, USA, Australia, Argentina.
At various times inventions by the Institute's workers won medals and diplomas at the USSR and International exhibitions.
The department has a patent pool numbering more than 250,000 descriptions of author certificates and patents of the USSR, about 200,000units of reference information on leading countries of the world.
The department provides scientific and medical guidance and is involved in patent-information studies at all R&D stages, find patentable engineering solutions, and ensures their legal protection.
The Department is located in the 1st (administrative and laboratory) building of Romodanov Neurosurgery Institute (see Institute scheme).