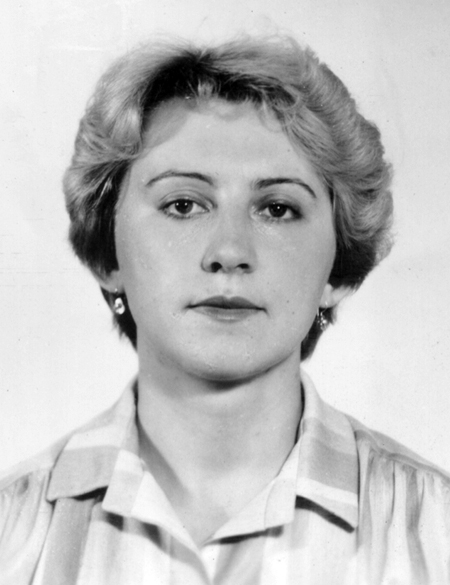 Head since 1988 –
Zhdanova Valentyna
, MD, PhD (2000).
1983 – graduated from Kyiv Medical Institute. 1983-1984 – internship in Neurology. 1986 – received specialization in Physiсаl Medicine and Physiotherapy.
The topic of Dissertation – "Rehabilitation Therapy of Oculomotor Vascular and Traumatic Disorders in Neurosurgical Patients".
Author of more than 225 scientific publications,, including 30 innovations and patents of Ukraine and the USSR. Academic title – Senior Researcher, specialty "neurology".
Observership
– MDS-ES Physiotherapy Summer School in Stockholm (Sweden), 2019 and Torres Vedras (Portugal) 2018),
– Austrian-American seminar "Rehabilitation medicine" (Salzburg (Austria) 2013, 2017),
– rehabilitation center "Meuhedet" (Tel Aviv, Israel, 2016),
– National rehabilitation center "Vaivari" (Riga, Latvia, 2015),
– National Hospital of Neurology and Neurosurgery (London, UK, 2014),
– Institute of Physical Medicine and Rehabilitation (Vienna, Austria, 2014),
– Neurological Center of Rosenhugel (Vienna, Austria, 2014).
The Main Activities Of The Department – treatment of patients with disorders of the cranial and peripheral nerves (vascular, traumatic, inflammatory genesis, after removal of tumors), including oculomotor disorders, facial palsy; treatment of patients with degenerative-dystrophic changes of the spine (protrusion, small hernias of the intervertebral discs) as well as in the postoperative period after removal of hernias, treatment of patients with pain syndromes and neurological deficits of cerebral origin.
05 June 2020
List of procedures carried out in the Department of Physiсаl Medicine
1 Electrical stimulation of the eye muscles on condition of disturbance of III,IV,VI cranial nerves function (paralytic strabismus), as well as isolated ptosis of the upper eyelid.
2. Electrical stimulation of the optic nerves.
3. Electrical stimulation of the facial muscles.
4. Electrical stimulation of the throat muscles and the tongue.
5. Electrical stimulation of limbs and back.
6. Electrical stimulation of muscles of the bladder and bowel.
7. Amplipulse therapy (SMT- currents).
8. Ultrasound therapy and phonophoresis of drugs.
9. Galvanization and electrophoresis of drugs.
10. Magnetic (pulsed, low-frequency, constant magnetic field).
11. Inductothermy (high-frequency magnetic).
12. Laser therapy.
13. Magneto-laser therapy.
14. Darsonvalization.
15. UHF- therapy.
16. Microwave therapy.
17. EHF- therapy.
18. Ultraviolet radiation (UVR) of the skin, mucous membranes, trophic ulcers.
19. Light-therapy (sollux).
20. Inhalation of drugs and herbal decoctions.
21. Mineral wax (Ozokerit), paraffin applications.
22. Cranio-sacral therapy.
23. Therapeutic massage.
24. Therapeutic exercise in diseases of the nervous system.
25. Exercises on the Evminov board.
There is a gym of physical therapy.
The department has developed and patented over 30 therapeutic techniques that help restore disturbed functions and improve the functional status of patients, and 2 scales for evaluation of the quality of patients' life, allowing objectifying the results of rehabilitation and conducting dynamic monitoring during the treatment.