Albina I. Tretiakova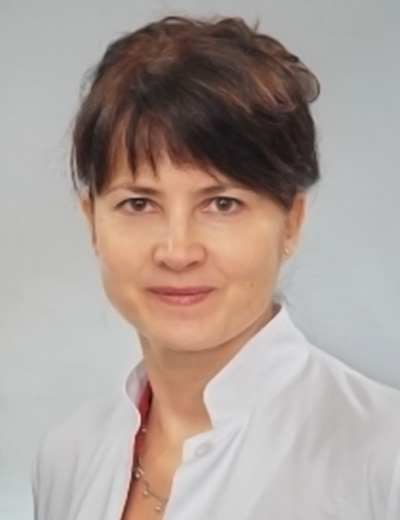 Albina I. Tretiakova – Head of Functional Diagnosis Department of the SI "Acad. A.P.Romodanov Institute of Neurosurgery of the Academy of Medical Sciences of Ukraine", Doctor of Medicine.
A.I.Tretiakova graduated from the Department of General Medicine of A.A.Bohomolets Kyiv Medical Institute in 1997. She has been working as a physician at the Functional Diagnosis Department of Acad. A.P.Romodanov Institute, NAMS of Ukraine; as Head of the Functional Diagnosis Department – since 2014.
A.I.Tretiakova did internship in neurology, specialized in functional diagnosis and ultrasound diagnosis in P.L.Shupik National Medical Academy of Postgraduate Education in 1997-98. She was awarded the title of Specialist in Functional Diagnosis since 2008, and a title of Specialist in Ultrasound Diagnosis since 2018.
In 2010 she passed an internship in neurology on the basis of the neurology department at the Royal Devon и Exeter Hospital, UK за програмою EFNS Department to Department Cooperation Programme; 2011 – Salzburg Weill Cornell Seminar in Neurology, 2011 – Institute of Child Health in London "Improving the use Electromyography in Paediatrics", 9th Annual Advanced EMG & EMG-Guided Chemodenervation Workshop in Duke, USA; 31th International Congress of Clinical Neurophysiology (ICCN), May 1-6, 2018 Washington, DC, USA; AANEM Annual Meeting Washington, DC October, 10-13, 2018; 7th Congress of the International SOCIETY OF Intraoperative Neurophysiology and Educational Course ISIN 2019 in Vienna, Austria.
During her work at the Institute of Neurosurgery A.I.Tretiakova has combined diagnosis and treatment with research work, implemented the results of research and introduced them into practice of Functional Diagnosis Department, reconstructive neurosurgery, neurorehabilitation. A.I.Tretiakova participated in 18 research projects of the institute. She defended PhD Thesis "Clinical-ENMG diagnosis and control of facial nerve injuries treatment" (speciality 14.01.15 – diseases of the nervous system) in 2004; Doctoral Thesis "Clinico-neurophysiological aspects of vertebrogenic cervical myelopathy" (speciality 14.01.15 – diseases of the nervous system) – in 2014.
A.I.Tretiakova is the author of more than 120 research papers, including coauthorship in writing 2 instruction materials/the guidelines for physicians, methodological guidelines, sections in the monograph. She has obtained 6 Ukrainian invention patents. A.I.Tretiakova regularly participates in both national and international scientific conferences and congresses.

orcid.org/0000-0002-3638-4339
21.12.2020